Should I Get a Diesel, Propane, or Electric Forklift?
Warehouses and construction sites' unsung powerhouses are forklifts. They are powerful and effective enough to finish the job quickly and easily.
However, here is an unexpected fact.Forklifts are not all created equal.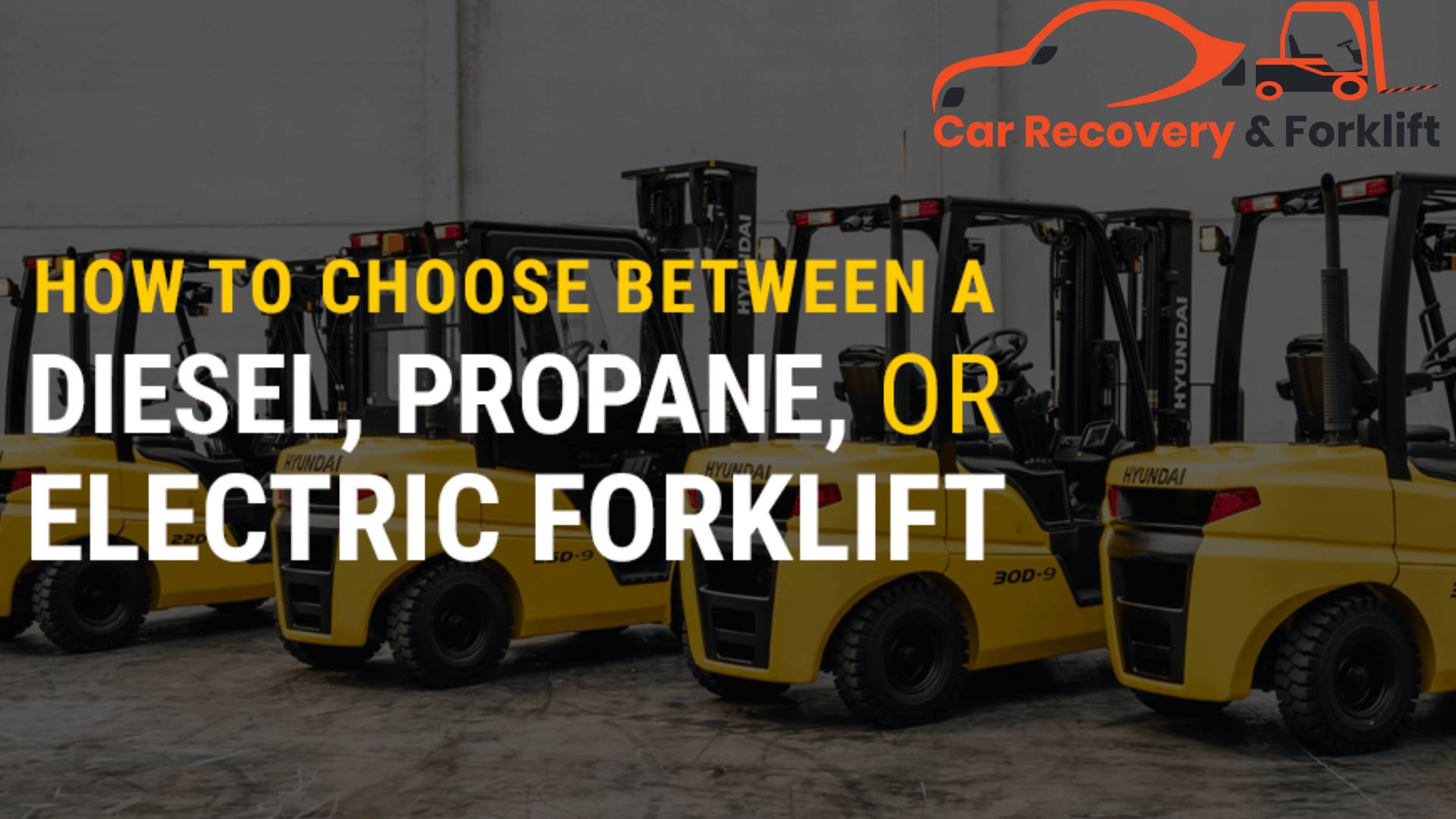 Read More: Hamdan Forklifts and Car Recovery
Yes, this is where nearly 55% of owners fail to distinguish and purchase a model that does not meet their needs. That only results in enormous losses.
There are many different kinds of forklifts, each with its own set of advantages and features. So, how do you know if an electric, propane-powered, or diesel-powered forklift is right for you?
Keep reading this blog as Kanoo Machinery discusses the features and advantages of each forklift to help you choose one.
If you haven't already heard, each forklift has its advantages and disadvantages; consequently, your decision will ultimately depend on your priorities. These frequently vary based on personal preferences and the environment in which you work.
The three types of forklifts are outlined below so that you can weigh the benefits and drawbacks of each and choose the best one.
Read More: Electric Forklift Vs. IC Forklift
Due to their potent performance, diesel forklifts are extremely popular. Diesel forklifts are unquestionably the best option if you need a forklift to transport heavy loads outside over uneven terrain. This is because these vehicles are designed to easily maneuver over rough terrain.
They usually cost less than electric models, but they are more expensive than propane models. They are more expensive to maintain, but they last longer than propane models. Diesel forklifts are designed to withstand harsh conditions and perform outdoor work on challenging jobs. Diesel forklifts outperform the other two types of power sources in many ways. Compared to their competitors, they have more torque. Additionally, they are utilized outdoors rather than inside due to their strong odorous emissions.
Forklifts powered by propane are also known as "LP Gas," "LP," or "LPG" (Liquid Petroleum Gas). They are somewhere in the middle of diesel and electric forklifts in terms of size. Regarding their ideal setting, they can be used both indoors and outdoors with ease. Compared to other forklifts, propane-powered forklifts have advantages and disadvantages when it comes to maintenance. Because LPG can go a long time without needing to be refueled, its maintenance requires less downtime.
Read More: Forklift Rental Dubai Industrial City
The forklift should give you the same amount of power every time you refuel an LPG and every time you have to refuel it again.LPG fuel tanks, on the other hand, are significantly more expensive than diesel-powered trucks. In addition, the fuel tank on an LPG vehicle has a bad reputation because it can block operators' rear-view mirrors while they are working on tasks.
Despite their name, electric forklifts do not use gas as their primary fuel source. instead, they use batteries to run. When it comes to loading, unloading, and transporting products inside, electric forklifts are an excellent choice, particularly if you are looking for a sustainable method of doing so. Although an electric truck's battery power source is a more eco-friendly alternative to diesel and propane, regular maintenance is still necessary.